*This post may contain affiliate links. As an Amazon Associate we earn from qualifying purchases.
Where Is Lake Victoria Located?
Lake Victoria is situated in southeastern Uganda, northern Tanzania and the westernmost edge of Kenya in the African continent. It is also known locally by the name Victoria Nyanza.
Due to its enormous size and outflow, it is a virtual lifeline to Egypt and Sudan. Its northern edge spans the Equator. A thumb of the lake at the southeastern edge touches Serengeti National Park.
In this extreme arid climate, the importance of a lake of this magnitude cannot be overstated. Plant and animal life, commercial trade and the very land itself depend on the health of this massive body of freshwater.
Size and Depth
At the enormous size of nearly 26,800 square miles, Lake Victoria is one of the African Great Lakes and by far the largest lake in Africa.
The lake is also known as the largest tropical lake in the world, meaning it never gets below 39.2 degrees Fahrenheit, so it never freezes or frosts.
As freshwater lakes go, it is second largest in surface area following Lake Superior. Which is located in the northeastern United States. It would take you several days to drive around Lake Victoria's over 4,000 miles of shoreline if there were roads.
At its deepest, Lake Victoria reaches only 272 feet, so it is considered a shallow lake. Compare that to the world's deepest lake. Lake Baikal in southern Russia, which bottoms out at a staggering 5,387 feet.
Age and History
Studies have shown that the Lake Victoria basin formed around 400,000 years ago. When crustal movements thrust rock upward, blocking westward flowing rivers and streams. The lake is thought to have dried up completely three different times during ice ages according to core samples taken from its base.
Lake Victoria was called after its namesake, Queen Victoria, following its discovery by British explorer, John Speke in 1858. Although there are records of Arab traders as far back as the 1160s using the lake to search for ivory, gold, and slaves, as well as other precious items.
Source and Drainage
Thousands of small feeder streams empty into Lake Victoria at various points, as well as several small rivers including the Sondu Miriu, Nzoia, Mogusi, Sio, Nyando, Migori and Yala.
Although the Kagera River is the largest, the other rivers combined bring more water into the lake. Its greatest source of water, however, is rainfall, which contributes a whopping 80 percent. Its single source of drainage is the Nile River near Jinja, Uganda, to the north.
Because Lake Victoria lies on an elevated plateau in Africa's Great Rift Valley. It drains to the north, emptying into the White Nile River – the longest division of the Nile. In which it relies heavily on the outflow from the lake to supply Sudan and Egypt to the north with much needed water.
The water first passes over Nalubaale Dam (formerly Owen Falls Dam), effectively making the lake a reservoir. Providing the chief source of hydroelectric power for the area.
Habitat and Wildlife
Because the lake has different layers of oxygenation, it is considered to be eutrophic. The surface waters are supersaturated with oxygen because it continuously circulates. There is near-stable oxygen saturation in the mid layers.
The lower layer does not circulate and has a poor oxygen concentration as well as a much colder temperature.
These layers are due to the circulation of incoming water in the surface layer. As well as growth of algae biomass in the mid layer. The settling of pollution, ash and soot from shoreline fires at the bottom layer.
Because of the low levels of oxygen at lower depths, there has been a large die-off, and even extinction of many native species, particularly the cichlids.
Even so, there are at least 200 of the 500 original known species of fish that still inhabit Lake Victoria's depths. The only lake having more native species of fish is Lake Malawi.
These indigenous species have evolved to survive changes in climate and water conditions. However the Singida tilapia and the Victoria tilapia are rapidly declining in numbers.
Fish that are thriving include the climbing gourami, the elephant fish, the squeaker, bagrid, silver butter, loach and airbreathing catfish varieties and the African tetras.
Against the protests of the many fisheries that are dependent on the lake. The Ugandan government, British colonial authorities. Introduced the Nile perch into feeder rivers in the 1920's. And by the 1950's the Nile perch was being seen in Lake Victoria itself.
This massive predatory fish can reach lengths of six and a half feet and over 400 pounds. They have disturbed the fishery industry and the natural ecosystem, and they have consumed an inordinate number of algae feeders. Reducing the oxygen levels below sustainability levels for many of the smaller native species.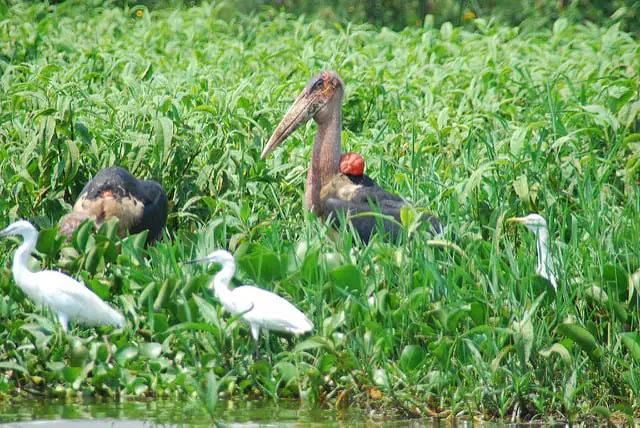 Lake Victoria is located along the Equator where hot conditions prevail.
Because of replenishment of fresh water nutrients on the surface waters due to decaying vegetation, and animal and fish carcasses. Which in turn are used by fish and small organisms, the lake is considered to be a tropical lake – the largest in the world, in fact.
There has also been an upsurge in plankton and algae, which is a major food group for many fish and birds.
In addition to the variety of species of fish, there are 17 species of bivalves (mussels, clams and oysters). Two types of freshwater crabs, one species of shrimp and 28 species of snails that call the waters of Lake Victoria their home.
The waters at times become heavy with a parasite carried by two of these snails, and humans have often suffered from being exposed to the parasitic infection.
The water hyacinth, the preferred habitat of these snails, has experienced an overgrowth in recent years.
Not only does this make the snail and its parasites more widespread. The heavy carpet of plants blocks life-giving sunlight from reaching the lower depths of the lake, creating further die-offs in plant and animal life.
In addition to underwater creatures, many mammals are found watering, feeding and living at the lake as well. Marsh mongoose, African clawless otters, cane rats, spotted-necked otters and giant otter shrews to name a few.
Also, several reptilian species live in the waters of Lake Victoria. Including Nile crocodiles, variable mud turtles, African helmeted turtles, Williams mud turtles and the intimidating monitor lizard.
In addition, the big game species of Sitatunga, Bohor reedbuck, Defassa waterbuck, Roan antelope and the hippopotamus make their homes along these waters.
Tree and shrubberies line the shores in many places providing a safe haven for these animals to take shelter or hide from predators.
Birds find a rich diet of fish and algae on the shores of Lake Victoria. Fish eagles fly over the entire area, keeping a distance of 100 yards apart.
There are 84 small islands within the shores of the lake; many are home to thousands of cormorants, gannets and nesting colonies of egrets. As well as Hammerkops, the Great White Herons and a variety of other birds. You will also find shore birds such as ducks and geese on the lake's surface.
Access and Human Use
Lake Victoria is traversed primarily by a system of ferries. This is the main means of travel between Tanzania, Uganda and Kenya, with primary ferry ports being located in Entebbe, Port Bell, Kisumu, Bukoba, Jinja, and Mwanza.
Thousands of people ferry between ports each day for work and pleasure, and the ferry is thought to be a safe and reliable mode of transport. However, in 1966, a disastrous sinking of the ferry named MV Bukoba cost between 800 to 1000 people their lives. This is to date, among the worst of Africa's maritime disasters.
While Africans use the lake as a source of income, primarily from fishing (and over-fishing), tourism and recreation areas have also become thriving businesses.
Farms make their home along the fertile banks and industrial areas have also risen near Lake Victoria, dumping thousands of gallons of raw sewage, fertilizers and waste chemicals into the lake daily.
There are several settlements and cities along the shores of Lake Victoria as well, including Kampala, Entebbe, and Jinja along Ugandan shores, Bukoba, Mwanza, and Musoma in Tanzania, and on the Kenyan shoreline are Kisumu, Kendu Bay and Homa Bay.
There is some concern about the impact that so much human encroachment has already made and will continue to have on the ecosystem and longevity of the lake.
Pollution is a threat as is the destruction of natural shoreline habitats. The Nalubaale and Kira Dams are draining water at a rate that is lowering the water below the natural levels.
This could critically affect the ecosystem and health of Lake Victoria. Studies are underway, and they are being taken seriously in regard to the critical nature of these wetlands.
Education is also in progress to increase awareness, as are conservation efforts to try to reinstate a healthy ecosystem at Lake Victoria.
Still, this massive lake and its somewhat primitive surroundings in the African plain remains a fascinating study in nature's will to survive.
Its beauty and sheer size astound and stir the imaginations of all who explore here. Lake Victoria in south central Africa hold's a wealth of wonder and amazement to all who visit her shores.