*This post may contain affiliate links. As an Amazon Associate we earn from qualifying purchases.
There is no place in the world like Africa. Nowhere else can you see the Big 5 safari animals in their natural habitat (elephants, buffalo, giraffes, lions, and cheetahs).  The scenery and sites are breathtaking and worthy of a trip. Most travelers assume a safari in Africa is out of reach.
If taking an African safari tour is on your bucket list, check out the following article. We've found seven of the best African safari tours, and the price on some might surprise you.
Product FAQ
Image via Pixabay
We know you probably have questions about African safari tours. Africa is a big place, and there are tons of things to see. Below we have answered the most frequently asked questions about an African safari.
1. What Is an African Safari?
A safari is an adventure over land. Typically, you go on safari to see wildlife. And if you want to see wildlife, Africa is the place. Modern safaris include a lot more than venturing overland. Most offer plane rides, boat rides, hikes, and four-wheel drives.
2. Is It Safe to Take African Safari Tours?
The African safari tour guides have an excellent track record for keeping their tourists safe. They are experienced and know the area well. Just pack your bug repellent, because mosquitos will be the only wildlife you need to worry about.
As far as traveling to Africa, it is safe when you stay in the main tourist areas. Any safari you book will be in the safe national park areas.
3. How Long Should I Plan My Trip?
Most experts agree that you need at least eight days on safari, no matter your specific destination. Most safaris are between eight and fourteen days, with allotted travel days before and after.
4. What Are Some Things I Should See While There?
The best places to see wildlife in Africa are within the many protected national parks. Among these amazing parks are Chobe, Maasai, Bwindi, Serengeti, South Luangwa, and many others. All the best safari tours we have found include visits to one or more of these amazing national parks.
How We Reviewed
To compile our list, we examined many available safaris and listened to travel experts who have experience in booking safaris in Africa. We selected the following seven African safari tours based on locations, costs, comforts, inclusions and exclusions, and opportunities for the best experiences.
Overall Price Range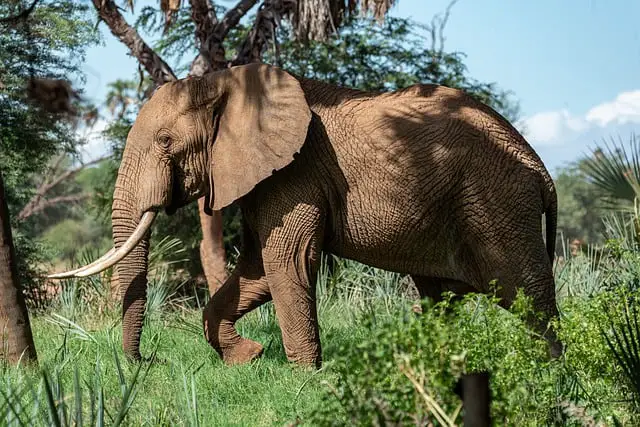 Image via Pixabay
Like most nice vacations, especially international ones, an African safari vacation is not cheap. There is a wide price range among options, and you will pay more or less depending on what you are looking for. Naturally, packages that are longer, and include more amenities like regional flights cost more.
There are some luxury options that include the absolute best accommodations, but you will pay for these. Overall, there is an African safari listed below for any budget, and the prices range from $2,000 to $22,000 per person.
What We Reviewed
Honeymoon Cape Town and Kruger

14 Day Botswana Wildlife Safaris

Private Guided Botswana, Vic Falls and Zimbabwe

9 Day Kenya Migration Safari Tour

Tanzania Migration & Uganda Gorillas

10 Day Romantic Namibia Safari

8-Day Zambia Safari
Honeymoon Cape Town and Kruger
Features
There is nothing more romantic than a secluded vacation for two for your honeymoon, and that is just what you get on this Cape Town and Kruger safari. For nine days, and four destinations, it is just you, your sweetheart, and your trusty guide.
This romantic adventure begins in Cape Town where you and your loved one will enjoy the finest of wine and a five-star cuisine in the Ellerman House of Africa. You will enjoy game drives, guided safari walks, and beautiful views.
From there you will be whisked away to Singita, where you will stay in a secluded and romantic lodge. Here you will be taken on a Big 5 Safari to see all the greats that Africa offers.
Price $$$
Pros
Perfect honeymoon getaway

Fine dining and fine wine

A pampered experience

Price includes regional transportation and most meals

Private and secluded safari tours
Cons
Safari is one of the more costly on the list

Only accommodates two travelers

Only two destinations

Trip is only 8 days for the price
14 Day Botswana Wildlife Safaris
Features
Of all the African safari tours on our top seven list, this is one of the most affordable. Highlights for this safari include the Khama Rhino Sanctuary. Guests will also visit the Batwana people.
The Batwana people have been into ranching since the early 1900s. Also on the itinerary is the Okavango Delta where guests will take a 4-wheel drive trek to spot red lechwe, buffalo, elephants, and many species of birds.
 Also on the schedule is the famous Chobe National Park where you will take a 4-wheel drive to see the largest known herds of elephants.
This trip also includes the awe-inspiring Victoria Falls, or "Mosi oaTunya," the smoke that thunders. There you will have a chance to white water raft if you are feeling extra adventurous.
Price $
Pros
Affordable option for a family

Able to visit some of the most famous spots

Opportunities to see wildlife

Plenty of adventures

Two full weeks of travel
Cons
Some excursion options not included

Some meals not included

More basic lodges
Private Guided Botswana, Vic Falls and Zimbabwe
Features
If you want to travel first class all the way, try this private guided African safari tour. This is a fourteen-day tour where you will have your own personal guide from the moment you step off the airplane, to the moment you board again.
You start off in the Okavango Delta where you visit the Hwange National Park. There you enjoy a private safari that is completely tailored to you and your travel companions. Your guide will do their best to make sure you see what you came to see.
Enjoy game drives and nature walks in both the Hwange and Matabos National Park. In the latter, you will see the most amazing granite boulders. They have the greatest population of verreaux (black vultures).
 Also included in this trip is three days near Victoria Falls. There you will enjoy the amazing views from the Tongabezi Lodge.
Price $$$
Pros
Secluded and private

Tailored to you

Finest dining and lodging

Several hot spot locations
Cons
Most expensive on our list

Maximum of four occupants
9 Day Kenya Migration Safari Tour
Features
If you are looking for a unique adventure, of all the wonderful African safari tours listed here, this one's for you. Immagine witnessing the great migration, where you will see the amazing Big 5 right in front of your eyes, and lots of them.
Even the endangered black rhinos make an appearance. From there you will move on to Serengeti National Park, where wildebeests and crocodiles are sure to be spotted.
You will see the 500-meter cliffs of the Lake Manayara National Park and see the amazing tree-climbing lions and pink flamingos. You will witness the largest intact caldera of the Ngorongoro Crater, which was once a volcano.
In the crater, you might glimpse black rhinos and even large tusked elephants. This tour is great for photographers, romantic travelers, and families.
Price $$
Pros
Wonderful sites

Affordable considering the itinerary

Larger number of participants for families (up to 6)

Unique lodging (tree house and tents)
Cons
No international or regional flights included

Shorter in length

Somewhat costly for # of days
Tanzania Migration & Uganda Gorillas
Features
This next safari option is a fifteen-day trip with eight destinations, and the maximum occupancy is six people. This is one of the more costly safaris on our list, but the balloon safari over the Masai Mara and the gorilla trekking in Bwindi might make up for it.
An expert guide will take you into the nearly impenetrable forests of the Uganda National Park. In addition, you will see the great wildebeest migration (as long as you go in season), and all the Big 5 animals.
There will be plenty of opportunities to take night game drives to see those shyer animals and there are also nature walks offered. Also included in this trip is a visit to the Nairobi rain forests, where you will spend a night under canvas in the Serengeti. You also get to experience the local culture by meeting the Batwa people.
Price $$
Pros
Plenty to see and do

Unique gorilla trek and balloon ride

Something for everyone

Large enough to accommodate a family

Cultural encounter
Cons
More costly than other options

Some meals not included

Possibly too adventurous for some
8-Day Zambia Safari
Features
Last but not least is the 8-day Zambia safari. The price you pay for this trip includes all activities, which makes it a great deal. This whole of this vacation is spent in the South Luangwa National Park where there are plenty of safaris and village tours, as well as tons of food.
You will also take game drives and boat trips. For this trip you stay at the Nkwali Camp. You also get to tour the Wildlife Education Cent
Price $
Pros
All-inclusive trip

Affordable option

Relaxing trip with no travel
Cons
Limited Destinations

Fixed budget on regional flights

Not private or small group
The Verdict
Depending on your budget you really can't go wrong with any of these seven amazing African safari tours. If you are looking for a romantic getaway, or possibly a unique honeymoon spot, we recommend the Honeymoon Cape Town and Kruger Safari.
For a more affordable family trip, we recommend the 14 day Botswana Wildlife Safari. For a two-week safari, you can't beat the price and you will see many areas of interest.
Featured Image via Flickr​