*This post may contain affiliate links. As an Amazon Associate we earn from qualifying purchases.
What You Need to Know About a Kenya Safari
A safari is on the bucket list of a surprising number of people. From exotic bird watching to the chance of seeing lions, a safari appeals to one's sense of wonder and adventure. Whether you want to take an exciting honeymoon or go on a solo adventure, we're here today to help you decide if a Kenya safari is right for you.
What Is a Safari?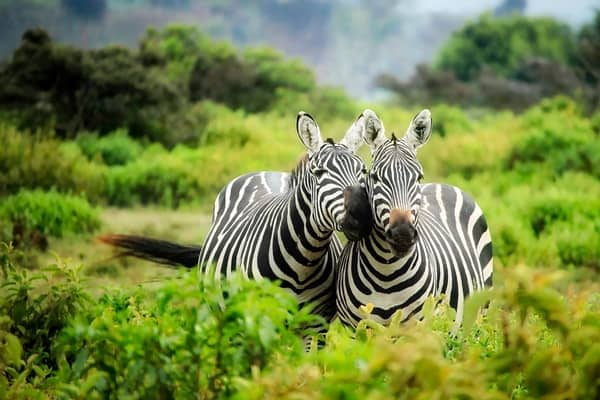 Image via Pexels
A safari refers to a trip that is taken to observe or hunt animals in their natural habitat. While most safaris occur in East Africa, there are also excellent safaris offered in South Africa. When planning your safari, you must consider factors such as the animals you want to see, safety, price, and accommodations. Traveling in groups or during the off-season will save you money.
However, the off-season is more affordable because there are fewer popular animals around. Whenever or wherever you choose to have your safari adventure, keep your wits about you, get vaccinated and you'll be just fine.
Features of a Kenya Safari
Kenya is less popular than South Africa and Tanzania. This translates into more bird watching and wildlife watching in true wilderness. The seasons are also very clear. This means there is no question when you should go to see certain species of animals. There is also a great variety of wildlife. Some of the most popular are the pink flamingo congregation on Lake Nakuru and the Great Migration of wildebeest.
Pricing
The cost to go on a safari depends on many factors. These include the time of year you want to go, how many people are in your party, how many nights you want to stay, the accommodations you're looking for, the tours you want to go on, and the country you want to visit. You can find a three-day Kenya safari package for around $300 per person. You can also find nine-day safaris costing well over $4,000 per person.
How It Compares
Image via Pexels
We picked a few similar products available on the market to see how they compare.
Uganda Safari

Tanzania Safari

Swaziland Safari
Kenya Safari
Wildlife and Birds
Kenya is one of only 15 countries in the world that has over 1,000 recorded species of birds. Besides DR Congo and Tanzania, it has the most avian diversity in all of Africa. Among Kenya's birds are the two largest birds in the world: the common ostrich and the Somali ostrich. You can also see the Kori bustard (the world's bulkiest flying creature), raptors, and bee-eaters. With a well-planned 14-day itinerary, you can expect to see between 350 and 400 bird species.
Popular Parks
The three most popular parks in Kenya are Mount Kenya National Park, Samburu Trails, and Kisite-Mpunguti Marine National Park. Each park has something special to offer, and all three are worth a visit.
Popular Tours: 5 Stars
One of the most popular Kenya safari tours is a package that includes gorilla tracking in Rwanda and game drives in Masai Mara. Another extremely popular tour is the Great Tour of Kenya, which will allow you to see Masai Mara, Nakuru, Amboseli, Tsavo, and Mombasa. It includes visiting the beaches of the Kenyan coast, a Masai village, Lake Nakuru, and Masai Mara National Reserve.  
Travel and Safety
Over a million people visit Kenya annually without any trouble. However, there are countries bordering Kenya, such as Somalia, Ethiopia, and South Sudan, that are not safe due to the threat of terrorist attacks. Walking through Nairobi alone is inadvisable, but staying overnight at a reputable hotel or lodging during your safari is perfectly safe. Just make sure you're vaccinated against malaria.  
​
PROS
Variety of birds

Density of mammals

Beautiful beaches

Breathtaking vistasMt. Kilimanjaro

Annual wildebeest migration
CONS
Some tours are fairly pricey

Malaria

Borders dangerous regions

Fewer big cats than Tanzania

Southern Kenya is flooded with tourists
Uganda Safari
Uganda safaris are available year-round. With a warm, tropical climate, there really isn't a bad time to visit this country. During the rainy seasons of March to May and October to November, there is an abundance of wildlife to be seen. With rain comes an abundance of food. When the weather is warm, migratory birds flock to the region.
Wildlife and Birds
Uganda is famous for its abundance of hippos, buffalo, zebras, and elephants. Gorillas, chimpanzees, and lions are also common. Depending on the time of year, you may see the occasional giraffe or leopard. However, there are no black rhinos or wildebeests, and white rhinos and cheetahs are rare.
Popular Parks
Three of the most popular Ugandan parks are the Bwindi Impenetrable National Park, Queen Elizabeth National Park, and Kibale National Park. Bwindi is famous for its mountain gorilla treks and biodiverse forests. Queen Elizabeth National Park is home to the Kazinga Channel and Mweya Peninsula. Finally, Kibale National Park is famous for its rainforest and density of chimpanzees.
Popular Tours
The most popular Uganda safari tour is The Ultimate Gorilla Experience in Bwindi Impenetrable National Park. Another popular tour is Journey to the Mighty Falls, which includes a boat cruise to the bottom of the falls in Murchison Falls National Park, a game drive, and a hike to the top of the falls.  
Travel and Safety
In April, Uganda issued a travel advisory warning visitors to exercise increased caution, especially in larger cities like Entebbe and Kampala. Regarding modes of travel, driving through Uganda is extremely affordable, but flying is safer and more convenient.  
​
PROS
Affordable tours

Accommodations

Mountain and volcano climbing

Stunning lakes

English is commonly spoken 
CONS
Long drive times

Not as clean as other countries

No coffee or cultural dances
Tanzania Safari
Home to the famous Serengeti National Park and Ngorongoro Crater, Tanzania is one of the most popular safari destinations. Whether you want to climb Mt. Kilimanjaro or gaze upon the chimpanzees in Gombe National Park, there is something in Tanzania for you.
Wildlife and Birds
Tanzania offers the second most diverse avian diversity in Africa. If seeing hundreds of bird species is your priority, a Tanzania safari may be the ideal choice. It is also densely populated by the Big Five species – the lion, African leopard, rhinoceros, African elephant, and African buffalo.
Popular Parks
The most popular park, Serengeti National Park, is a sight to behold. However, we love the less popular parks, such as Katavi National Park, Selous Game Reserve, and Ruaha National Park. These parks are just as awe-inspiring as the popular ones. The accommodations are just as good. The only difference is you can sight-see without all the crowds.
Popular Tours
The most popular Tanzania safari tours are an eight-day tour of Tanzania and Kenya, a one-week tour of Tembo, and a three-day tour of Mikumi National Park. 
Travel and Safety
Travel in Tanzania is safe, especially by plane. On the ground, however, you'll have to be careful. In February, Tanzania issued a travel advisory recommending tourists exercise increased caution, especially for members of the LGBT community and those visiting parts of the country that are frequented by Westerners.  
PROS
A dense population of Big Five species

Sublime beauty

One-third of the country is wildlife preserves
CONS
Swaziland Safari
The Kingdom of Swaziland is the smallest country in the southern hemisphere, but it is home to 17 protected wildlife areas and over 132 species of mammals, including predators.
Wildlife and Birds
With over 500 bird species in Swaziland, this small, landlocked country is home to 52 southern Africa endemics. If you want to view wildlife, the best time to visit is during the dry season. If you're dying to see the southern bald iris, you need to plan a trip for June to October. These are the winter months of the Southern Hemisphere. For the best birdwatching overall, go from November to April when European and northern African birds migrate, including the blue swallow.
Popular Parks
Swaziland has many popular parks and reserves. While Hlane Royal National Park has elephants, giraffes, hippos, zebras, and wildebeests, there are no black rhinos, cheetahs, or wild dogs. Game reserves are ideal for walking, mountain biking, and world-class tours while Malolotja Nature Reserve is best for hiking and camping in the wilderness.
Travel and Safety
Every year, over half a million tourists choose to safari in Swaziland. Its cities are tiny and safe compared to large South African cities like Durban and Johannesburg. If you remain aware of the potential for pickpockets in large, bustling markets, you should be fine. ​
​
PROS
Rich and active culture

Retains a down-to-earth feel

Varied accommodations to choose from

Rich, active culture

SmallA wide array of activities

Serious about wildlife protection

A wealth of bird life and wildlife
CONS
Medical facilities are substandard

Security checks are common
Conclusion
Image by Fearscare from Pixabay
There is no doubt a safari is the adventure of a lifetime. The best safari for you will depend on your personal preferences, but our recommendation is the Kenya safari. In fact, we have to rate it five out of five stars. If your vaccinations are up-to-date, Kenya is perfectly safe. However, you should always be cautious when visiting foreign countries.
Keep your wits about you when you are in densely populated tourist locations. When on safari, whether you are getting a private tour or sight-seeing with a group of other people, you can enjoy breathtaking beaches, beautiful lakes, and all kinds of primates, felines, and birds. If you can afford it, we recommend the Kenya and Tanzania Great Migration safari so you can watch the wildebeest and zebras migrate to Kenya.
Featured Image by HowardWilks from Pixabay